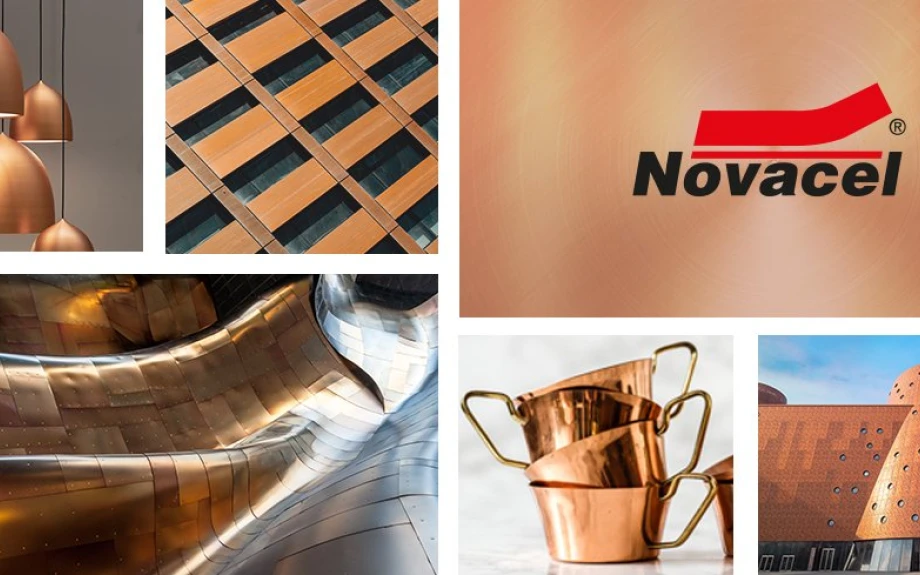 First protective film for Copper & Brass – Novacel 4142
---
Copper and Brass are among the most beautiful metals that exist and are used for esthetic applications such as architectural panels, catering, decoration and many others.
Until now, no safe adhesive protection has been available to preserve these high-value metals.
Novacel has innovated to offer you the first protective film suitable for Copper and Brass surfaces. This unique market solution does not affect the appearance of your surfaces after removal.
Your products will be kept safe during all your mechanical processes (bending, punching…) in addition to storage, handling and transportation.
Its premium adhesion means that it can cover all standard finishes while being easy to remove thanks to an innovative glue which does not interact chemically with the metal.
A special satin backing allows the protected surfaces to be handled and avoids suction effects between sheets.
Novacel 4142 has a thickness of 70µm and medium adhesion.
Available in black/white, the film can be neutral or RDA printed with machine direction (stripes and arrows + Protected by Novacel)
It is guaranteed for one year, including one month outdoors, whatever the weather conditions!
As part of the Novacel protective film range, 4142 is REACH compliant and can be recycled.