Processing and protective films for Deep Drawing
Deep Drawing involves manufacturing by forming a deep hollow part from a previously cut sheet using a press. The process enables manufacture of circular, square, rectangular and other complex shapes. It involves high levels of pressure and friction.
Deep Drawing: a very demanding process
Metals undergo high deformation stresses. Your vulnerable surfaces face potential hazards throughout the manufacturing processes.
The value of your metal may be ruined by a single scratch on the surface. The cost of repairing or replacing the product can have a big impact on your profit margin.
That is why aluminum and stainless steel need a highly technical adhesive film on their surfaces during this severe process. Novacel films ensure that the substrates can be manufactured without damage.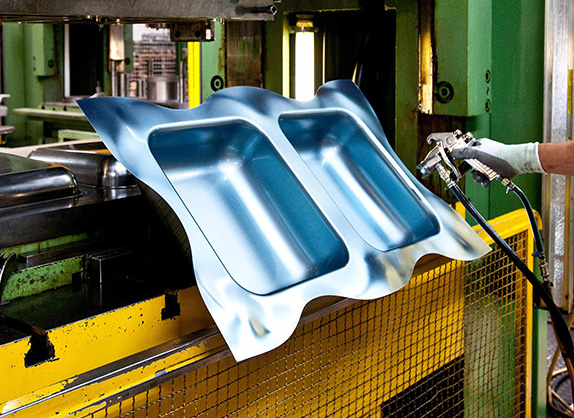 ​
Deep Blue by Novacel
Deep Blue is an exclusive range of products fully dedicated to the high demanding Deep Drawing process.
A reliable alternative to plasticized PVC
Deep Blue Technology is revolutionizing pressing. This intelligent technology greatly improves the behavior of films during pressing operations.
It allows to reach the plastic deformation capacity of a plasticized PVC.
In association with high performance glue systems, Deep Blue by Novacel offers optimal solutions for every deepness, shapes and processes.
This ranges exhibit unmatched and unprecedented conformability on the market for a polyolefin backing.
Incredible performances of the Deep Blue range
Deep blue range offers multiple advantages:
Perfect conformability to the shape of your piece
High-quality backing and coating to eliminate impacts and scratches during application of pressure
Premium adhesion adapted to your depth, finish, time between steps.
No lifting during the process
Product wasted reduction
PVC free and Phthalate free
REACH compliant
100% recyclable
Free of any residue after removal
Easy Peel fonctionnality for the fastest, most effortless removal the market can offer.